Filter By:
Show More Brands

---

Show Fewer Brands
Show More Sizes
Show Fewer Sizes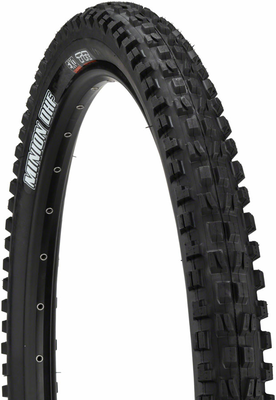 The Minion DHF has become the benchmark for riders wanting maximum control in loose and muddy conditions. - Directional ramped center knobs provide low rolling resistance - Minion signature channel cut side knobs provide excellent cornering traction - Intended use: loose, loose over hard, medium, wet
The do-it-all trail tire - Aggressive, high-volume tread An aggressive tread in high-volume casing, designed with great traction in mind. The Ardent doesn't forget the racer with large block-style side knobs offering numerous edges for high-speed cornering. The center tread, while ideal for braking and accelerating traction, also features ramped knobs to minimize rolling resistance. With a wide variety of size offerings, the Ardent captures every mountain rider's needs.
Refined, redesigned, and ready to shred any line - Ramped and siped tread to roll fast and track straight under braking - Wide trail (WT) casing specs are optimized for 30-35mm inner width rims With side knobs borrowed from the legendary Minion DHF but widened to provide more support, the DHR II corners like no other. The center tread features ramped leading edges to improve acceleration and sipes to create a smooth transition when leaning the bike. Paddle-like knobs on the center tread dig in under hard braking and help keep the bike under control. Pair it with a Minion DHF up front for the ultimate aggressive trail riding tire combo!